AkzoNobel and Philips welcome Damen Shipyards to pioneering antifouling partnership
Damen Shipyards has joined AkzoNobel and Philips to help further develop a pioneering fouling control solution which uses UV-C light technology to keep ships' underwater hulls clean.
The technology being used integrates UV-C light-emitting diodes (LEDs) in a coating scheme which emits just enough light to provide total prevention of bio-fouling accumulation on the protected area.
Although successful small-scale trials have already taken place, bringing Damen Shipyards on board will add vital expertise in areas such as vessel integration – perfectly complementing AkzoNobel's surface protection and adhesion know-how and Philips' unrivalled capabilities in UV-C LED applications and electronics.
"We're both delighted and excited to welcome Damen Shipyards to the consortium," says Ralph Slikkerveer, Research and Development Director for Marine, Protective and Yacht Coatings at AkzoNobel. "As a leading international shipbuilder, they'll bring essential knowledge and experience and significantly increase our chances of success."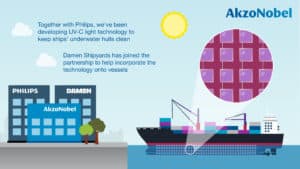 All three parties will now work together to build on the progress that AkzoNobel and Philips have made since first setting up the RunWell consortium in 2017. The goal is to create a fully biocide-free fouling control solution which will provide groundbreaking performance, leading to substantial economic and environmental benefits. "As a leading global innovator, Philips is continuously developing and expanding its extensive catalog of technologies that bring opportunities for growth and innovation in many business areas," explains Jako Eleveld, Head of IP Licensing at Philips. "By offering access to our technologies through our technology licensing programs, we drive cooperation with partners that share our commitment to impactful innovations. It's great to see that Philips' UV-C technology has found its way to this innovative antifouling solution, which will benefit the shipping industry while at the same time enabling a positive environmental impact."
Jasper Schuringa, Head of Corporate Venturing at Damen Shipyards, adds: "This is a very exciting project and an excellent fit with our own strategy to become the world's most sustainable shipbuilder. There's still some way to go, but the solution being developed clearly has the potential to reshape how the industry has traditionally thought about anti-fouling systems." It was back in 2014 when Philips first started experimenting with UV-C LED technology – known from its use in water treatment and sterilization applications – but it had never been used in open water. Since joining forces with AkzoNobel, promising progress has been made to the point where trials on commercial trading vessels have taken place.
As well as continuing to improve the technology, a key next step for the consortium is vessel integration, and all three partners will now work towards creating a commercially viable solution in the near future.
"It's a challenging project, but it's also a fantastic example of the benefits of collaborative innovation," continues Slikkerveer. "By working together as a strong partnership of three complementary Dutch companies, we're confident we can combine our capabilities to deliver a sustainable solution that could completely revolutionize the fouling control industry."