Improved performance for an Italian quartet
Improved performance for an Italian quartet
Antonino Canese, PPG Marine Account Manager Italy, explains how the repainting of four refrigerated cargo ships for Cosiarma SpA provided improved performance as well as reduced environmental impact.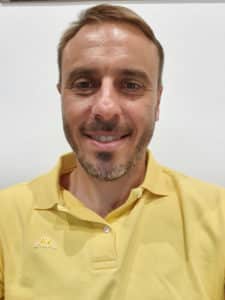 Cosiarma, based in Genoa, Italy specialises in the import, marketing and distribution of fresh fruit and vegetables. It employs a fleet of four modern refrigerated cargo ships trading between Central America and the Mediterranean, which are managed by Seatrade in the Netherlands.
Cosiarma was looking for a solution for the discoloration of the distinctive red on its vessel topsides and boot tops caused by chalking as well as extensive damage to the bow area. The company wanted the vessels to benefit from having a clean hull for the full sailing period until the next drydocking, as well as improved performance and reduced environmental impact.
PPG recommended a solution centred around its Sigmadur 1800 finish coat, which has a patented high-durability technology, ideal to prevent discoloration of the red on the vessel topsides and keep them bright. PPG also proposed its Sigmaglide 1290 pure silicone fouling release, along with PPG Sigmashield 1200 as a primer on the bow and boot top for abrasion and impact resistance and PPG Sailadvance RX antifouling for the bow area.
The PPG Sigmadur 1800 finish coat, with its patented high durability technology, was the ideal product to prevent discoloration of the red colour on the topsides and keep it bright and vibrant. It provides excellent resistance to atmospheric exposure conditions with proven durability and long-lasting performance for up to 15 years.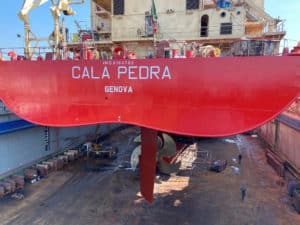 Latest generation
The latest generation PPG Sigmaglide 1290 biocide-free fouling release hull coating is based on a 100% pure silicone binder system. It helps to improve a vessel's power performance and supports compliance with the Energy Efficiency Existing Ship Index (EEXI) and Carbon Intensity Indicator (CII), reducing CO2 emissions and achieving efficiency requirements. In addition to ensuring a clean hull, it delivers optimal performance through reduced power and minimal speed loss.
PPG has performed several studies in cooperation with leading independent marine institutes in Europe to measure the power and speed impact on vessels retrofitted with Sigmaglide 1290. Using computational fluid dynamics analysis following ITTC standards, on different ship model geometries and hull forms, a significant shift in the speed and power curves was confirmed. The measured improvement in power demand averaged 7% less power for the same speeds across the different ship models.
PPG Sigmashield 1200 primer is an abrasion-resistant, amine-cured phenolic epoxy single-coat system that is easy to clean and has excellent abrasion- and impact resistance. Its service life is expected to be more than 20 years when the dried film is not seriously damaged. PPG Sailadvance RX is a low friction, self-lubricating antifouling based on a self-release binder technology which results in low friction, high idle time tolerance and minimal speed loss.
Having made the decision to proceed initially with two vessels, Cala Pino and Cala Pula, the owner was so satisfied with the result and performance of the coatings on both vessels that they requested the same combination to be applied to other two, the Cala Palma and Cala Pedra, a year later. Our service and support teams were an integral part of the successful coating application and ensured that both projects were delivered smoothly and efficiently.
Project
Recoating of four refrigerated vessels for Cosiarma
Challenge
Prevent discoloration; improve vessel performance and reduce environmental impact
Coatings system

Sigmadur 1800 finish coat

Sigmaglide 1290 pure silicone fouling release

PPG Sigmashield 1200 primer

PPG Sailadvance RX antifouling

Benefits

Excellent colour retention

Hull remains clean between drydockings

Reduction in ship power requirement
More articles like this can be found in the latest issue of DryDock magazine and why not follow Drydock magazine on LinkedIn and also follow PCE-International on LinkedIn