Jotun sponsors HMS Belfast restoration
Jotun UK & Ireland say they are delighted to be working alongside Imperial War Museums supporting vital conservation work on HMS Belfast, one of the largest and most powerful cruiser in the Royal Navy during the Second World War, and now a floating museum on the Thames in the heart of London.
A sizeable donation of paint from Jotun will ensure that the historic vessel's structure is soundly protected and cosmetically restored to its original condition for current and future generations to explore and learn about.
HMS Belfast's construction began in 1936 by Messrs Harland & Wolff and was launched on St Patrick's Day 17th March 1938. She was commissioned into the Royal Navy on 5th August 1939 less than a month before the start of the Second World War. After a mere two-month service, extensive hull damage from a magnetic mine left her in drydock for three years. Rejoining the fleet in 1942 until April 1944, she worked the Arctic convoys for much of the rest of the war, protecting the key supply route to Russia and playing an important role in the sinking of the German Battleship Scharnhorst. From 6th June – 8th July 1944, HMS Belfast spent five weeks supporting the D-Day landings and is said to have fired one of the first barrages at Gold and Juno beaches on D-Day.
Before being retired from service in 1963, HMS Belfast was also actively involved in the Korean War from 1950-1952 as well as serving in a peace-keeping capacity around the world. As such a valuable asset in British and Commonwealth history, it was only right that she be saved from the scrap heap and in 1971 was brought to London by the HMS Belfast Trust to become a floating museum. She was transferred to the guardianship of IWM in 1978 where she remains today. To equip HMS Belfast for her ongoing battle against the elements, Jotun have supplied advanced two-pack coatings enabling the restoration to be carried out successfully by brush and roller application. The challenging conditions posed by its location on the River Thames in the centre of London prohibit conventional spray application and ensuring long term performance was imperative.
The specification includes Jotamastic Smartpack, with a simple 1:1 mix ratio and easily applied by brush and roller, and Jotun Hardtop XP on the topsides for the ultimate easy to apply finish. Jotamastic Smartpack is an epoxy primer designed for typical maintenance of structures where full surface preparation is not possible.  Flowing out to provide a smooth base layer when applied by brush or roller for long lasting adhesion and anti-corrosive protection, it was ideal for the areas of HMS Belfast prepared with hand tools. Hardtop XP is a robust, durable polyurethane topcoat with great colour and gloss retention.  It is one of the most popular topcoats with commercial applicators due to its ease of application by spray or brush and roller, with excellent flow and long term in service performance.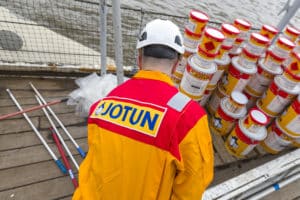 "Supporting this project was a very easy decision for us in Jotun," explains Tim Sexton, UK Marine Manager. "This vessel means so much to the history of the UK. We chose the products based on ease of use and the long-term protection properties required for this Iconic Vessel and the choices were very much appreciated by the owners and applicators applying the products in the middle of the River Thames."
Conservation work is permanently on-going, forming part of a ship tour and an open-door attitude to workshops allows the public to see what it takes to keep a war ship in shipshape condition. However, the Covid Lockdown closure has provided an opportunity for some of the heavier maintenance jobs to be tackled, such as the exterior paint work.
"When it came to paint, we were searching for a company with extensive experience in large projects of the scale and size of HMS Belfast," says Dr. Andrew Higgins, Director of Development at IWM. "Product suitability and track record, alongside an ability to match the specific colours required to return HMS Belfast back to her original Second World War look were top of the agenda. We were very pleased when Jotun decided to partner with us for this re-paint by very generously donating all paint needed for the project. Given the dramatic drop in commercial revenues due to the global pandemic, the cost savings to IWM from this generous in-kind support was very much appreciated and marks the start of a new partnership with Jotun and IWM."