The Power of Ecoshield and its applications
Over the last few months, the rudders and running gear of different types of vessels were given an Ecoshield protective coating at shipyards in France, Turkey, the Netherlands, Finland, Namibia, the US and China. These ships include container vessels, RoRos, chemical tankers, a ferry, a tug and an icebreaker.
Most of the ships belonged to different owners. Some of them were new customers, others returning ones. The returning customers had seen at first hand that Ecoshield solved the problem on their other rudders and wanted the same protection for the rest of their fleet. Whereas, the new customers saw the excellent result obtained by other owners and chose Ecoshield to prevent corrosion and cavitation damage from recurring.
By removing the existing paint layers and applying the coating system on running gear, the never-ending cycle of painting, suffering damage, having to perform extensive repairs in drydock followed by a full repainting, can be broken. Ecoshield gives a very thorough and lasting defence for a ship's entire service life. No repaint will be required during drydocking. At most minor touch-ups will be needed.
Great Protection with an easy application
With time at a premium in drydock, the speed of application of Ecoshield is a further advantage. It's flexibility makes it easy to adapt the application schedule to the rest of the activities at the shipyard or drydock in a way which does not interfere with them. What's more, overcoating time can be as short as three hours. With the right planning, grit blasting and application of the two required layers can be performed in just one day.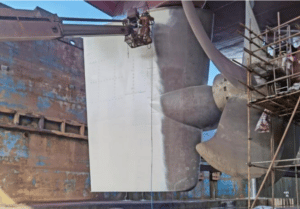 A wide range of uses with great results
Besides offering rudder protection, Ecoshield is also suitable for thrusters, azimuth thrusters, Azipods, thruster nozzles, thruster tunnels and other underwater ship gear which needs special protection from corrosion. The extra strength coating protects these areas for the service life of the ship. There is no need for recoating or major repair. For this reason, several of the vessels treated recently had their thrusters, thruster tunnels or nozzles coated with Ecoshield as well as the rudders.
Ecoshield speaks for itself with its success stories in the sheer number of companies that purely began by coating one rudder as an experiment and have since ordered the coating protection for the running gear on other ships after seeing the great results in service. Most of these companies have plans to transform their entire fleet. It is results like these that truly firmly believe in investing in a good product for your ship extending its life for the better.
This thick vinyl ester base solution comes with a ten-year guarantee. It is the only coating known in the industry to fully protect a rudder from all cavitation damage and corrosion. We at PCE highly recommend it. Take a look at what difference Ecoshield can make to your newbuild or docking in the future: https://www.nxtbook.com/subseaindustries/Subsea/Ecoshield_Advanced/index.php
At PCE Magazine, we are always ahead of the curve and that means providing you with the latest news and industry related articles straight to your inbox. If this article is something that has piqued your interest, then why not subscribe to our magazine