Raising standards, protecting lives and property
The focus on developing products which meet the needs of supply chains in a sustainable future has never been more acute. Carl Burrell, Global Product Director – Fire at Sherwin-Williams Protective & Marine Coatings, examines how innovation is generating new products which support the practical and environmental demands for all concerned. In this article he covers the dynamics driving the intumescent coatings market and explores product innovation and the science and technology being developed to anticipate demands now and for the future.
 At Sherwin-Williams Protective & Marine Coatings, we have been working in collaboration for some time with our customers to understand and anticipate their needs for the future. Increasingly, the dynamics of the supply chains of the built environment are challenging, with a demand for the development of products which are sustainable, innovative, work with new modern materials and meet expanding legislative demands.
For architects and designers, the freedom and flexibility of design is crucial. New materials are consistently being developed to protect the fabric of modern complex buildings, none more so than protection for structural steel. As we know, steel is a key element of building design due to numerous recognised benefits such availability, sustainability, ease of use, and relative cost. However, in selecting steel for the framing of these striking structures – some elements of which are often left exposed as part of the aesthetic of a modern building – the architect also needs to know that they can be protected safely in the event of a fire.
At Sherwin-Williams, our Innovation and R&D teams have developed the next step in the latest generation of intumescent fire protection coatings in the Firetex FX6000 series, to enable construction industry supply chains to break free from some of the constraints of yesterday's products and become better focused on the needs of tomorrow's designers and builders. To that end, we are enhancing our family of coatings under the award-winning intumescent passive fire protection range for structural steel with the launch of Firetex FX6010, extending the Firetex FX6000 range to allow for greater versatility in application with the ability of application by standard single-leg spray equipment. The benefits are wide-ranging, and complement the range of our products in this family of coatings which answer the application issue for those who wanted this option of a simplified application process.
Innovation and technology
Whilst we innovate and develop products based on breaking new boundaries in science and technology, sustainability is also rooted in our values and our way of doing business. On this basis, we research and develop products to meet the requirements of our customers for now and the longer term, with considerations for their own environmental, social and corporate governance (ESG) policies, their employees, supply chains and the communities in which we all work.
Using Sherwin Williams' proprietary Fire Design Estimator (FDE) software, our Fire Engineering and Estimating Team (FEET) assists customers with structural fire protection calculations for green building projects, combining fast-track, third-party-certified material quantity estimations, as well as carbon equivalent values from our environmental product declarations (EPDs).
As a leader in coatings technology, we have invested time, skills and knowledge built over many years in developing this state-of-the-art fire protection estimation engineering software which accelerates the calculation of carbon equivalent weight. This provides the design and fabrication community the ability to see in real time the carbon equivalence of the fire protection on a project. But most excitingly, it allows us to see the immediate effect on this CO2e calculation by changing design – particularly where steel and fire optimisation techniques are employed – and potentially the products used to protect these projects.
Our FEET and FDE software developers have also worked closely with Business Information Modelling software partners and users to integrate fire protection into the BIM 3D model. With a project frequently having 10,000-plus individual structural steel elements, automation of the fire estimation process removes human factors and accelerates the process. 
In the civil construction industry, most intumescent coatings typically dry by a process of water or solvent evaporation, which when applied at a high film thickness can take several days to dry. In response to the industry's growing concerns about application speed and time savings, the Sherwin-Williams Innovation and R&D teams have further developed the latest generation of revolutionary technology in the Firetex FX6000 series, whilst at the same time considering the all-important requirements of product and asset sustainability.
Designed for use across multiple steelwork, construction and maintenance sectors, these technologies are an ideal solution for intumescent passive fire protection of complex modern steel structures worldwide, including offices, retail, residential, warehousing, airports and healthcare developments.
The outcomes speak for themselves, with faster overall project completion, reduced costs, with coatings that provide up to 120 minutes' fire protection and long-term in-service durability. Peace of mind for the occupants and owners of these facilities is always at the front of our mind when we develop new products. 
]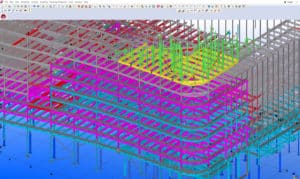 Typical project with cellular beams requiring fire analysis using the FDE Estimator tool
Collaborating for a successful outcome
We see product development, service and delivery as a collaboration embedded within our customer-partners. Indeed, we have listened to and acted on our discussions with the market around the need for a coating such as Firetex FX6010 which uses single leg spray equipment but retains all the benefits of quick curing and durability.
With the continued growth in use of intumescent coatings such as this, Sherwin-Williams foresees an accelerating need for the education and training of those specifying and using the products. We know that satisfying this requirement for knowledge is essential, which we support with our Continued Professional Development (CPD) courses, and thought leadership campaigns in driving best practice with use of intumescent coatings.
It is clear that engaging multiple stakeholders – including designers, fabricators and applicators – early and consistently throughout the process is key to delivering a successful, safe and cost-efficient solution. Working together, we share knowledge and help our clients to reach their goals.
Infrastructure and the environment
We are committed to the principles of sustainability and green solutions across our wider portfolio. To this end, our products are independently validated under environmental product declarations (EPDs) that communicate comparable and transparent information about the lifecycle environmental impact of products.  Further credits or points are awarded when selecting building materials that have independently verified documents. Typical parts of the EPD will include product definition and material characteristics, overview of the manufacturing process, information about in-use conditions, lifecycle assessment results and testing verifications.
When it comes to coatings for internal walls, floors and ceilings, we offer low or zero volatile organic compound (VOC) content products, that are free of respiratory sensitisers or carcinogenic materials, ensuring good air quality for applicators and future building occupants. Our coatings also contribute towards key parts of the development and manufacturing process under the guidance in LEED (Leadership in Energy and Environmental Design), one of the most widely used green building rating systems in the world. Available for virtually all building types, LEED provides a framework for healthy, highly efficient and cost-saving green buildings.
In materials and resources, we encourage the use of products having lifecycle information and environmentally, economically, and socially preferable lifecycle impacts. LEED requirements define that indoor air quality can be improved by reducing concentrations of chemical contaminants that can damage air quality, human health, productivity and the environment. In specific guidance under LEED, at least 75% of all paints and coatings, by volume or surface area, must meet the VOC emissions criteria and 100% must meet the VOC content criteria.
 The take-up of the latest generation of Firetex FX6000 intumescent products can already be seen on steel constructions rising across Europe, such as Milan's striking UnipolSai Tower in addition to the CO-Met building complex in Orleans, France, and the Tottenham Hotspur Stadium in the UK.
A shining example of environmental best practice is the 10-storey building 33 Charterhouse Street, London, providing ground floor retail space and world-class, technologically enhanced office facilities.  The project was the first in the UK to achieve an 'Outstanding' rating under BREEAM, the world's longest established and leading scheme for assessing, rating and certifying the sustainability of buildings.  Project developers Helical plc and Ashby Capital put sustainability at the forefront in their planning and were suitably rewarded at design stage by the BREEAM classification. 
Protected with the award-winning Firetex FX6002, the sustainability measures adopted on the development reduce the embodied carbon through a variety of measures including the use of low carbon materials such as earth-friendly cement-free concrete, solar PV panels and a biodiverse green roof.
At the award-winning Brunel Building in London, the proven Firetex fire protection system was applied to the 16-floor, 22,500m2 workspace featuring a 3.5m high column-free space next to London Paddington railway station. The building design won a gold in the 2016 London Design Awards and a Structural Steel Design Award in 2020.
These buildings all have the very latest in coatings protection technology to ensure they and the many people who move about them are safe and protected for many years to come. Protecting lives and property is at the heart of our business.
At Sherwin-Williams, we are constantly looking ahead and working with partners, relevant authorities and industry bodies to ensure our products keep us safe, with all due environmental and aesthetic considerations for the future.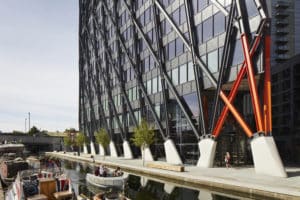 The award winning Brunel Building has been give fire protection from Sherwin-Williams 
Carl Burrell is Global Product Director – Fire, Sherwin-Williams Protective & Marine Coatings. He leads the strategy, development and testing for the Firetex range of intumescent coatings and is a recognised award-winning global authority on fire protection in this field, working as an adviser on NORSOK and British Standards Industry test and standards activities.