The September issue of PCE-International is now available
Whether coating to protect pipelines, aeroplanes or computer gadgets – customers are united in their battle against corrosion, and in Lifting the Lid Ella Newington, Marketing Manager at Hexigone Inhibitors, looks at the co-blending of phosphate inhibitors for sustainable, low-cost corrosion control.
Up Front is all the highs and lows of drone inspection. We hear about how unrivalled mind-bending roller coaster and Siberian railway bridge drone inspections show off the manoeuvrability and precise control of the Elios drone in confined areas.
Keeping you fully coated throughout September with the latest news!
The Spotlight in this issue is turned on the conservation of a Cold War relic. Duxford's Handley Page Victor, a British jet-powered strategic bomber,  has been under conservation for four years, and is among the largest conservation projects the team at the UK's Imperial War Museum (IWM) have ever undertaken.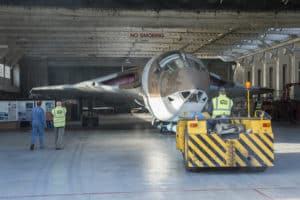 Analysis takes a look at the latest in fire protection. It looks at how PPG met the challenge of applying a fire protection coating offsite for a TotalEnergies refinery project in France, and new intumescent coatings from Teknos, Hempel and Sherwin Williams.
You can find all this and more at PCE-International