Commercial vehicles lead a hard life so functional and durable coatings are essential for longevity
Come up behind a flat-bed trailer lorry on the road, and you're probably trying to look past it, not at it.
Commercial 
trailers attract little attention from the average motorist, but they are everywhere. There's a good chance the next one you see in the UK will be made by the leading name in the business, Dennison, an Irish family-owned firm 
with manufacturing centres in Naas, Dublin, and Lancaster.
The company has 50 years and 50,000 units behind them. Dennison's trailers come in the forms of skeletals, curtainsiders, tippers, platforms, machinery carriers, and a range of specialist trailers including an innovative sliding bogie.
They supply over 80% of the container chassis market in the UK as well as a healthy export market. Underpinning every one is the Dennison Chassis; the culmination of five decades of design, manufacturing expertise and experience.
The company's products can expect a hard life from the majority of users, so functional and durable coatings are essential. But sheer pride means they leave the factory looking as sharp as a showroom car.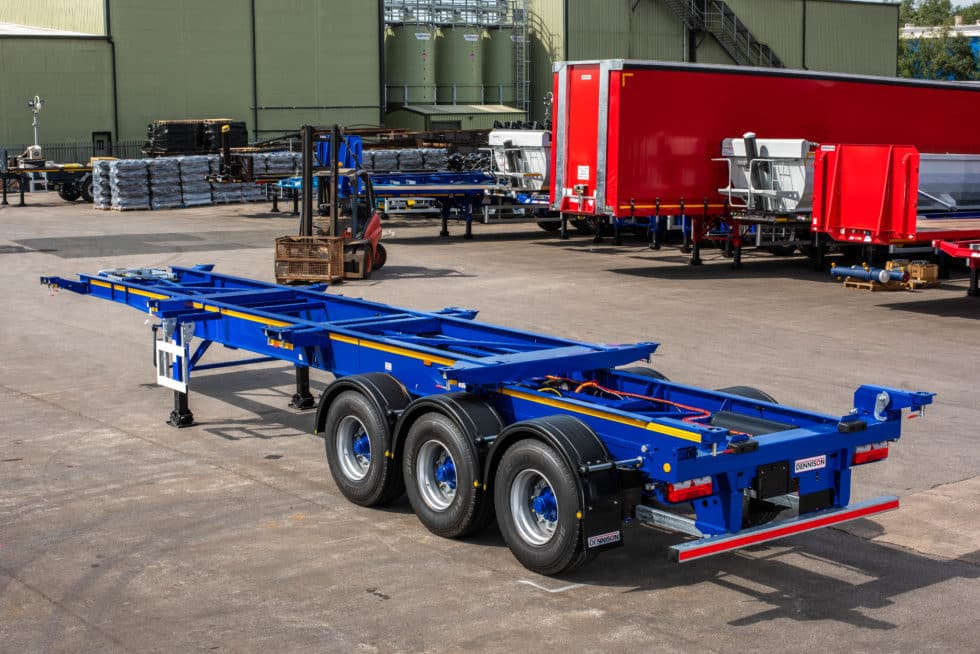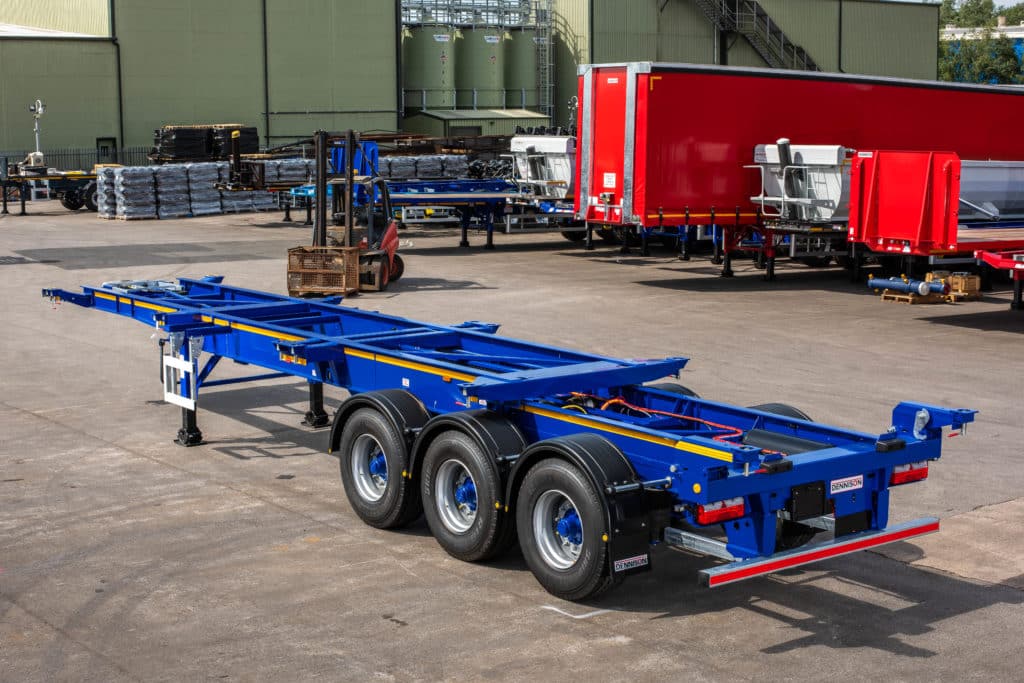 PAINTSHOPS
Dennison operate paint shops at both their factories, and have had a long relationship with PPG. Managing Director James Dennison has worked in the family business since 1986, and in 1992, managed the opening of the UK 
production site in Lancaster where the coating process has been refined over the years.
"All painting is done in house in our spray booths at Lancaster and Naas," he explains. "We used to bake the primer, but now we only bake for 20-25 minutes after the top coat – the primer and topcoat then cure together. We use a 2-pack epoxy primer and then top coat. Done this way, we get a five-year warranty from PPG.
"Preparation is by shot blasting with a steel abrasive called chilled iron, and we seal the joints with a special silicone. We bake them and then flash off at 35 deg, and then let it cool down. "The Primer is 2K Epoxy Beige Primer followed by a top coat of 2-pack Ready Mixed Finish, all supplied by PPG. If applied properly, with correct thickness etc, the coatings are good for a minimum of 10 years. We don't do a refurbishment or maintenance service, but the same coatings can be used if required."
There are sometimes calls for special finishes, and Dennison says that both single and 2-pack metallic colours can be used: "We have to use a very costly base coat and lacquer system for the 2-pack- not very efficient for production, and they are therefore mainly used on bodies for tipping trailers. Quite some time ago we tried water-based paint as opposed to solvent-based, but that wasn't very successful. "We have a colour mixing machine for the top coat in both our UK and Irish factories that gives us the ability to mix any RAL colour for small batches if required.
A team of around nine people in Lancaster are currently shot blasting and painting 11 finished trailers. Each model is manufactured to meet the specific needs of the operator, from owner drivers to blue chip companies. The trailers are sold, or sold on lease or HP, with a lot of users renting from rental companies.
OTHER OPTIONS
Also in the NorthEast, HMG Paints – the UK's largest independent coatings manufacturer – supplies coatings for other manufacturers' trailers. Marketing Manager Paddy Dyson says there are many options including zinc rich, barrier coatings, high build and water-based products.
They usually recommend 2-pack epoxy based coating for priming: "HMG have a vast range of epoxy primers to suit varying conditions, processes and application methods, designed with trailer and chassis coating in mind. In terms of topcoat, 2-pack polyurethane is the normal go-to product. The selection of the correct acrylic or polyester polyol will lead to excellent durability and aesthetic characteristics."
Again HMG Paints have a range of differing 2-pack polyurethanes dependant on end-user requirements ."This year has seen substantial growth in our Acrythane 4G, which is available as both a coloured Topcoat and Clearcoat. Acrythane 4G
has an optimised balance of early hardness, fast cure and long pot life, making 4G ideal for OEM, repairers and builders within this demanding marketplace, and has helped our customers improve efficiencies across the coatings process. Additionally, we use Epoxy EPC and Monothane for fast cost-effective refinishing on price sensitive jobs. We have a selection of customers who still prefer to use SBL single pack on shotblast; without doubt though Epoxy coatings are now the most selected coatings for trailers."
Dyson says it is hard to predict the lifetime of coatings in service as it depends on many factors such as preparation, application, product, environment, location of coated item and physical damage. However, most coatings should last between 10 and 20 years in service if adequately cleaned, inspected and repaired if required: "One of the many factors to influence premature corrosion are damaged areas, or cut or drilled sections of chassis where the paint film has been destroyed – paint cannot protect if it is not there! So, it really depends on the company we're working with. In normal circumstances, we would not give more than one year on a refinish 
job, but on a new build with paint controls a multi-year warranty can be achieved."
ROLE OF MAINTENANCE
Maintenance can take many forms, but cleaning plays a massive role in extending the longevity of a coated item, especially in terms of the accumulation of grit, salt and general traffic film from roads. Dyson says any damaged areas will be the start-point of corrosion: "The trick with
a good paint system is that corrosion should be contained to the damaged area, so our paints are developed and tested with this in mind. It is also 
why we would recommend regular washing and inspection, as any serious damage to the coated item or paint film may need repair. Cleaning too can be problematical, as strongly alkali or acidic cleaners will certainly affect galvanised areas or zinc rich coatings.
As a company, we work alongside our customers to optimise their refurbishment and maintenance regimes to maximise the longevity of the coatings. HMG regularly get calls for special requirements, such as specialist corrosion-
resistances: "Our adaptability and product development are renowned in the market, so if a company has special requirements then HMG is often the first place they call. We have been asked for special coatings for fuel tanks 
and galvanised bolt-on attachments, highly specialised explosive carrying trailers, medical examination (x-ray) and fuel carrying trailers, each with their own unique specifications.
Some customers ask for 15 to 20-year warranties, so a specially selected paint system may be required together with a detailed preparation and
painting process."


CURING-EDGE
Graphene paint additives are a recent addition to HMG's range, and they were first to market in the UK with a range for site vehicles. Dyson says the products are now starting to make significant market inroads: "The market
response has been fantastic for our Graphene containing products and we're working with numerous OEM's and refinishers on various projects.
"Graphene can help provide corrosion protection, and it can also add anti-scratch properties to a paint film," he explains. "Graphene was originally used in a project alongside one of our customers, Brit Tipp Tipper Manufacturers, who have been using it for two years now with excellent results on added durability – it is now even specified by their end user customers. Additionally, 2020 will see our full launch of Acrythane Ultra, a Graphene containing 2K VOC and REACH compliant topcoat, which along with Graphene utilises the highest quality pigmentation for an ultra-durable gloss and colour retentive finish with class leading durability." ■